The financial pressure of having a child is stressful. Between food, clothes, and the endless stream of nappies it can feel like someone's cut a hole in your pocket. We've all heard the expression 'growing like weeds' , a statement which has never been truer than with babies. It seems they wear clothes a handful of times before you're right back at that checkout buying the next size up. So, we'd like to introduce the Swop Shop!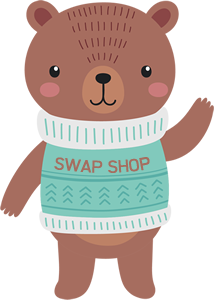 We believe in community and try our best to give parents a helping hand in every way we can. Fuelled by the generous donations and support of our lovely members and community we can offer a unique service like no other. Donations of all outgrown clothes, shoes, toys…just about anything baby related are welcome and we offer them to other members of the community.
Our Swap Shops are held once a month and everyone is welcome! Members pay £2 per child and non-members £5 per child. All larger items may be priced independently on the day.
We do ask that all donated clothes are washed and in good condition. All toys are complete and in good working order. We want the next child to have just as much enjoyment as your little ones!
You don't have to donate to take away, we simply ask if you can please donate when you can to help keep the service going.
All money raised will help us keep providing free parent support groups to families across Shropshire. This service is run on donations so we never know what or how much stock will be available on the day, please have no expectations.
If you would like to make a donation then please send us a message and one of our lovely volunteers will be ready to collect.